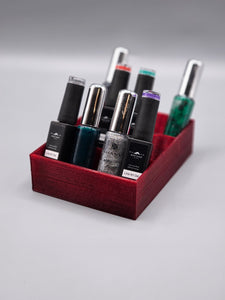 Stowed Chaos - Crimson
Stowed Chaos is a standalone rectangular storage holder for up to 12 nail art liner bottles. This can be used alone, or in a drawer (such as an Ikea Alex drawer). This item fits with the 1/3 size of the Chaotic Divide. 
*Please note: items staged in holder are not included in purchase.*
Color & Material Description: Crimson is a premium, limited time, vivid, translucent red. 
Share on Facebook
---
We Also Recommend